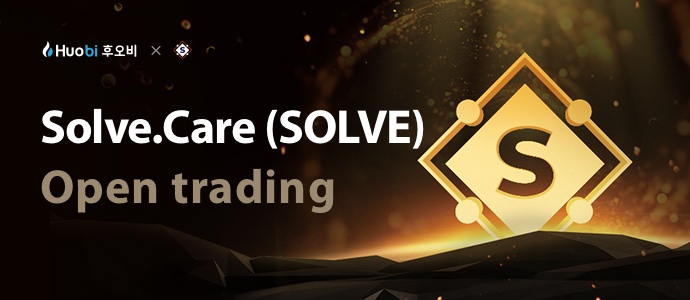 Dear users
SOLVE(Solve.Care) will be launched on Huobi Korea on April 9, 2020 (GMT+9).
Deposit will be available from 15:30, April 9, 2020(GMT+9). SOLVE/BTC and SOLVE/KRW trading will be available from 16:00, April 10, (GMT+9). Withdrawals will be available from 15:30, April 13, 2020(GMT+9).
▶ About SOLVE
Solve.Care is a global healthcare platform which uses blockchain technology for the administration, coordination and payment of healthcare benefits, and is the first company to utilize digital currency and blockchain technology in healthcare for value-based payments. This allows for the configuration of patient-centric care administration networks that allow participation based on disease conditions, economic and social needs, employment, and other eligibility criteria. Solve.Care is acknowledged the Most Innovative Blockchain Project according to the Blockchain Life 2019 Award.
▶ SOLVE Official
- Website: https://solve.care/
- White Paper: https://solve.care/wp-content/uploads/2018/09/lightpaper.pdf
- Official Telegram Group: https://t.me/SolveCareNews
▶ Huobi Korea Official Channel
- Telegram(Notice): https://bit.ly/2TyfpeC
- Naver Blog: http://bit.ly/2Tg4zL6
- Facebook: http://bit.ly/2UmgByT
- Twitter: http://bit.ly/2C66kQn
- Kakaotalk plus friends: https://bit.ly/2EKeWhi
Risk Reminder:
Investing in digital assets comes with high risks due to huge price fluctuations. Before conduct deposit, please read carefully about the reminder of asset deposit page. Deposit could not be processed if the sended asset is below minimum deposit quantity. If there is any problem, please contact the help center.
Before investing, please have a full understanding of all the risks of investing in digital assets and be prudent of your own investment decisions.
Huobi Korea
April 8, 2020