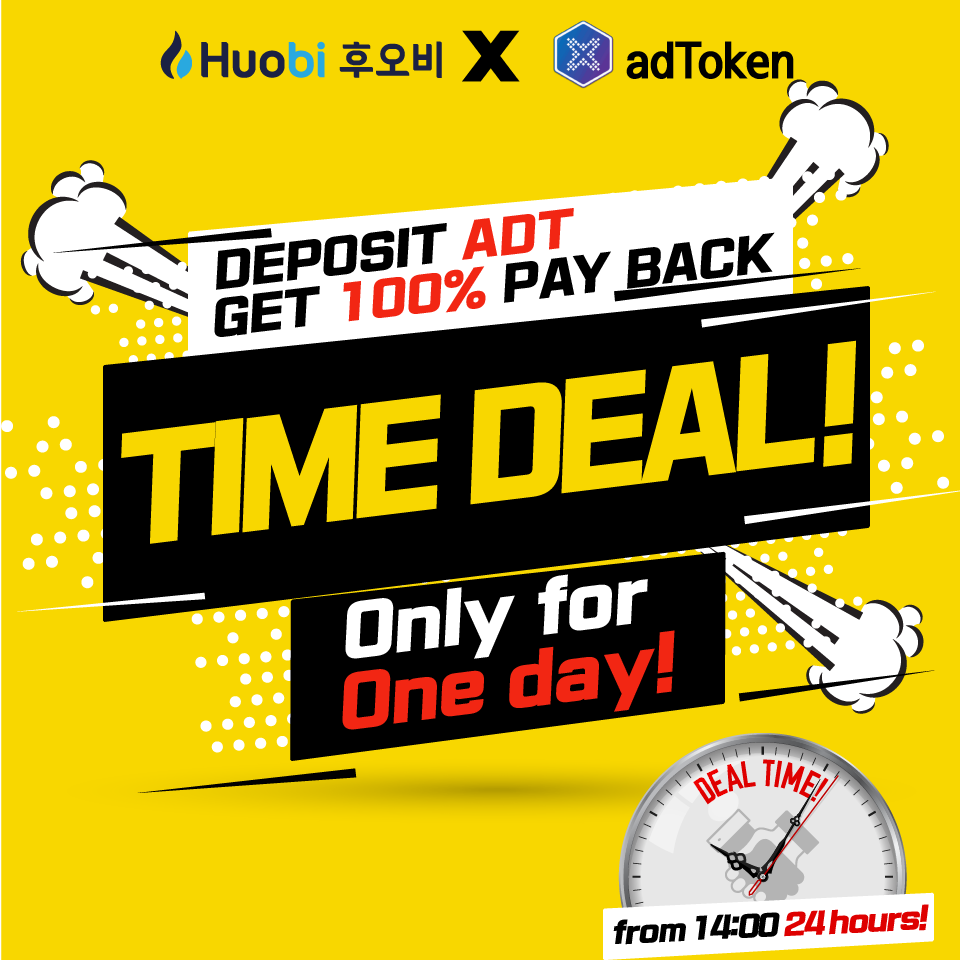 Dear users,
In order to celebrate the listing of ADT(adToken) on Huobi Korea, we will launch the TIME DEAL event "100% payback for deposit of ADT"
*Go to sign up: http://bitly.kr/dCWTR
*Go to deposit: http://bitly.kr/z2YVc
Event period: March 18th 2019 14:00 to March 19th 2019 13:59 (KST)
Event Target: Huobi Korea's user with above level2 verification.
Rules: During event period, for Huobi Korea users, 100% payback for deposit of ADT on Huobi Korea 
Airdrop Execution: Within 2 weeks after the ending date of the event
Notes:
1) This event is only for Huobi Korea's users with Lv.2 (KYC) Verification.
2) Max Airdrop volume per 1 UID is 12,500 ADT
3) If more than 50 people are exceeded, the event will be terminated without announcement.
4) Minimum deposit of ADT for the event is not limited. 
5) Reward will be allocated by order of deposit of ADT within event volume. 
6) If the trading is suspected to be a malicious or deceiving, it will be excluded from the rewarding list
7) Reward announcement and execution date may change due to the condition of company
8) Payback event can be cancelled or ended sooner than original plan due to the unexpected condition of the company.
9) To be eligible for event winner, external withdraw of ADT is limited during event period
Risk Reminder:
Investing in digital assets comes with high risks due to huge price fluctuations. Before conduct deposit, please read carefully about the reminder of asset deposit page. Deposit could not be processed if the sending asset is below minimum deposit quantity. If there is any problem, please contact the help center.
Before investing, please have a full understanding of all the risks of investing in digital assets and be prudent of your own investment decisions.
Huobi Korea
March 18, 2019