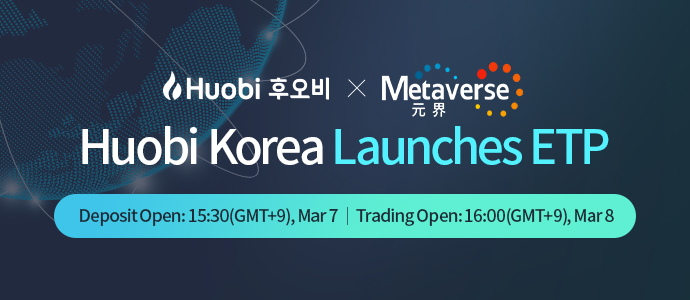 Dear users,
ETP (Metaverse ETP) will be launched on Huobi Korea on March 7, 2019 (GMT+9). 
Deposit will be available from 15:30, March 7(GMT +9). ETP/BTC and ETP/ETH trading will be available from 16:00, March 8, 2019 (GMT+9). Withdrawals will be available from 15:30, March 11, 2019 (GMT+9).
▶ ETP Official
- Website : https://mvs.org/
- White Paper : http://newmetaverse.org/white-paper/Metaverse-whitepaper-v3.0-EN.pdf
- Official Telegram Group : https://t.me/Metaverse_Blockchain
Risk Reminder:
Investing in digital assets comes with high risks due to huge price fluctuations. Before conduct deposit, please read carefully about the reminder of asset deposit page. Deposit could not be processed if the sended asset is below minimum deposit quantity. If there is any problem, please contact the help center.
Before investing, please have a full understanding of all the risks of investing in digital assets and be prudent of your own investment decisions.
Huobi Korea
March 7, 2019